Joanne's Story
November 25, 2019
2023-07-29 16:02
Joanne's Story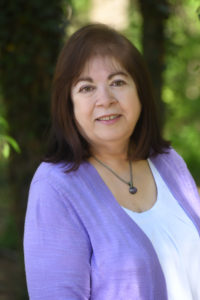 Joanne DiMaggio, MA, CHt
A Reporter for the Universe
"Joanne's research and visionary capabilities provide valuable insight into the karmic dramas of our 21st-century lives."
—Barry Eaton, author of
Afterlife
and
No Goodbyes.
Internationally recognized Researcher, Teacher, Author, and Past-Life Therapist, Joanne DiMaggio, MA, CHt, has published six books and hundreds of magazine articles for both mainstream and esoteric audiences.
In 1987, Joanne began devoting all of her time to her esoteric studies, specializing in past-life exploration, research, and therapy. The years she spent researching and working on her own past lives, coupled with her experience as the director of her own past-life research organization, gives clients the comfort of knowing they are working with someone who has firsthand knowledge of the emotional, physical, psychological, and spiritual experience a past-life journey entails.  She eventually combined her passion for soul writing™ with her knowledge of reincarnation and today is considered a respected expert in both fields.
I've always seen myself as a Reporter for the Universe. Being able to research, understand, and share the richness of esoteric topics like Past Life exploration and Soul Writing™ in a practical, healing way is a core part of my spiritual DNA and purpose in this lifetime!
Joanne offers a full array of esoteric & therapeutic services encompassing:
One-on-one private Soul Writing™ and Past-Life Therapy sessions.

Digital and self-guided learning courses.

"Coming Soon"

And literature for the hungering soul to rekindle their higher awareness and use of the gifts, attributes, and goals they incarnate with again and again. 
Joanne's Educational Accomplishments:
Joanne has been professionally pursuing past-life research and therapy for over 30 years, backed by many degrees and certifications along the way.
Masters in Transpersonal Studies degree, now known as Transpersonal Psychology, through Atlantic University.
Spiritual Mentor Certification through Atlantic University.
Graduate of the Eastern Institute of Hypnotherapy.
Member of the National Association of Transpersonal Hypnotherapists and the International Board for Regression Therapy
Completed additional training in Hypnosis at the College of DuPage in Glen Ellyn, IL, and studied under Dr. Irene Hickman, a pioneer in the field of non-directive hypnotherapy.
Joanne's Awards:
Outstanding Graduate Award for 2011, Atlantic University

Divine Light Expressing Award, 2021, Unity of Charlottesville
Joanne's Professional Accomplishments:
Joanne has been active and collaborative in bringing science and research-backed findings into a field that often gets muddled with far-out theories and practices detracting form the validity it truly holds.
Has been the guest on over 100 national and international radio programs and podcasts, including Coast to Coast AM and the Shirley MacLaine Show. 
Has presented at nearly 50 conferences nationwide.
Has been actively involved with Edgar Cayce's Association for Research and Enlightenment (A.R.E.) since 1987. 
One of the founding members of the A.R.E. Heartland Region headquartered in Chicago. 
Coordinator for Edgar Cayce's A.R.E. Charlottesville, VA Team, August 2008-2021
Formed Atlantic University's first Alumni Association, where she served as president for two years.
Founder and director of PLEXUS (later known as Athanasy), a former professional past-life research and educational organization.
Founder of the Unity Holistic Healing Center, a service of Unity of Charlottesville, and served as its director from April 2013 to June 2020. 
Joanne's Publications:
A few of her most recent books can be found at the links below. Be sure to check out her blog and social media channels for more content and connection!
Joanne also wrote and produced a line of inspirational greeting cards using Soul Writing™. One of the cards was cited for its creative excellence in the category of sympathy cards and was selected as one of six finalists at the
International Greeting Card Association's award competition.